Covid-19 and the measures needed to contain the virus have had a devastating impact on the economy. There has been particularly severe damage to the lives of school children, university and college students, and young people starting out in the labour market.
Newsletter from 30 October 2020
Covid-19 and the containment measures implemented by governments to tackle the health emergency have had a devastating impact on the UK economy and across the world. We have all been affected in some way. But as has been widely discussed in the media this week, there has been particularly severe damage to the lives of school children, university and college students, and young people starting out in the labour market.
Since the Economics Observatory launched in early June, we have posted a series of pieces summarising research evidence on the impact of the pandemic on the young, both now and in the coming years. For example, we have looked at the likely effects of school closures on children's cognitive, behavioural and emotional skills; and on the mental health and wellbeing of adolescents.
One consistent message is that already disadvantaged pupils – those growing up in low-income households or whose parents have low levels of education – have been slipping further behind their more affluent peers in terms of both academic achievement and other measures. Among specific disadvantaged groups, many newly arrived migrant pupils have missed out not only on education but also on the process of integration; and children with special educational needs and disabilities have been vulnerable to spending cuts to additional support services.
Circumstances are tough for university students too. As one Observatory article notes, graduating into an economic downturn can have negative consequences for young people in terms of pay and career progression throughout their lives –the phenomenon of 'labour market scarring' discussed in a recent Observatory short film. Indeed, it is much harder to secure employment in a recession for young people leaving education at any stage, notably those who only have GCSEs or below.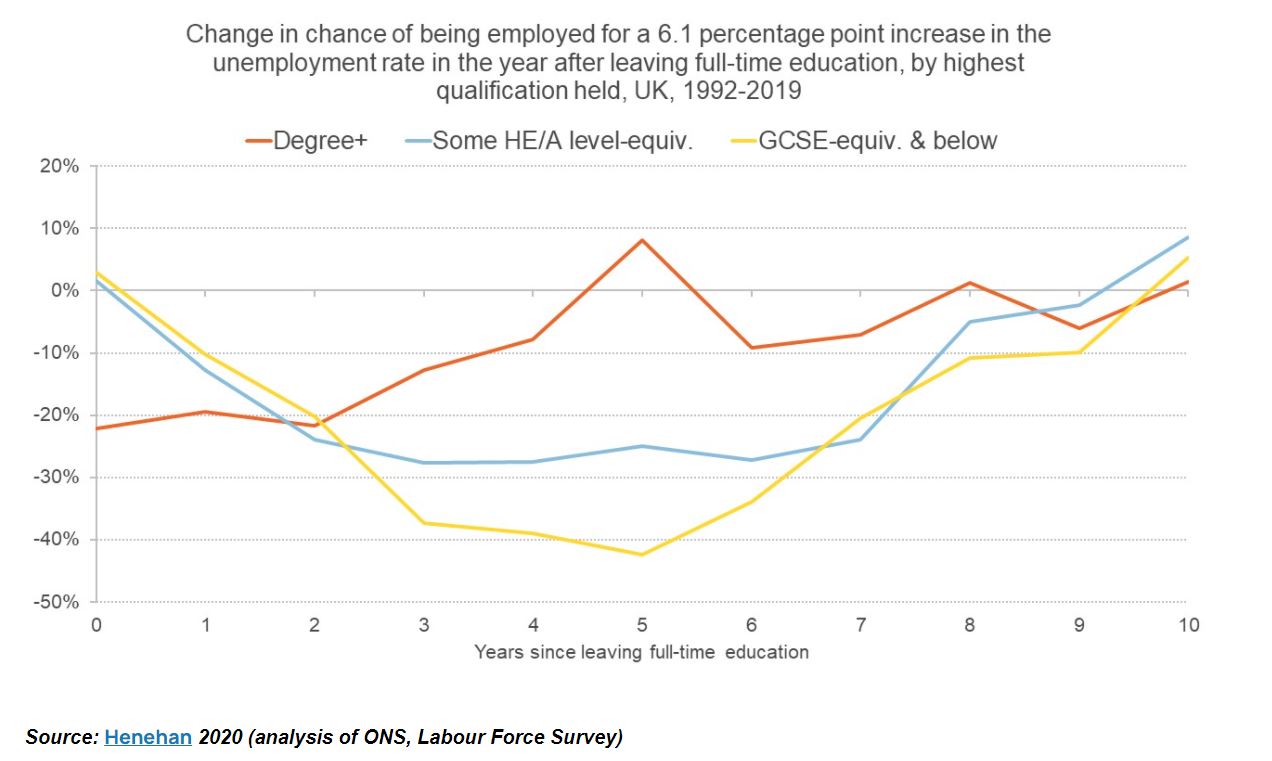 Apprenticeships too are at risk just at the time when they will be most needed to protect employment among young people and sustain recovery. And the latest report from the Resolution Foundation shows that rates of job loss of previously furloughed workers are highest among 18-24 year olds.
In a Panorama documentary earlier this week, BBC reporter Kash Jones investigated the long-term consequences of the pandemic for young people, asking Has Covid Stolen My Future? As well as having conversations with A-level and university students and an aspiring airline pilot who has seen his funding cut, he talked to two economists who have long studied patterns of 'social mobility' – how much people's life chances are affected by their family backgrounds.
Lee Elliot Major and Stephen Machin warn that widening educational and economic inequalities may increase the divide between rich and poor in what they call 'Generation Covid'. For example, given the reduced opportunities to start their working careers, many from wealthier families may opt to stay in education longer, further exacerbating inequality and limiting social mobility.
We began this week thinking about the economic impact of Covid-19 in different parts of the UK, especially in light of the variation across regions and nations in the renewed threat of the 'second wave'. Last Friday, we explored which businesses, employees and occupations are most likely to be hit by the two-week 'firebreak lockdown' in Wales.
On Monday, we turned to Northern Ireland, where given the resurgence of the virus and a bigger than expected fall in GDP, policy is understandably focused on restoring public health and maintaining some stability of jobs and incomes. But, the authors warn, an unfortunate long-term implication of such a 'stabilisation-led approach' will be that attempts to tackle the long-term competitiveness weaknesses within the Northern Irish economy have once again been delayed.
We have also looked at Scotland. As elsewhere, coronavirus is entering a dangerous new phase there and the First Minister has announced a new framework of restrictions at a local level, due to come into effect from Monday. This piece updates us on the hit to the Scottish economy, reflected in many jobs remaining furloughed, a sharp fall in working hours, and economic activity in the services sector still below where it was a decade ago. The authors conclude that there has never been a more uncertain outlook for Scotland in living memory.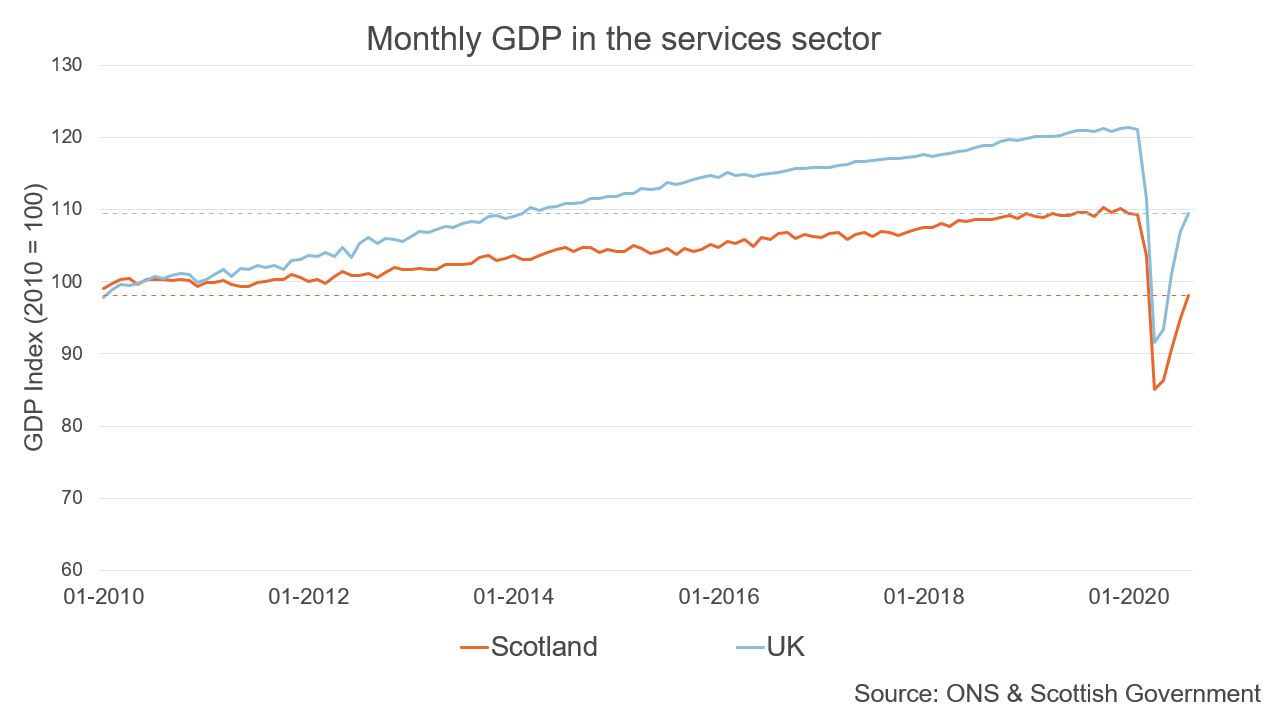 Bringing together our two themes of youth scarring and regional experiences of Covid-19, one new post this week explores whether policies to tackle unemployment at the local level can make a difference to young people's lives. The authors from the What Works Centre for Local Economic Growth show the big rises in the youth claimant count in some parts of the country, often areas in the Greater South East that had relatively low youth unemployment rates prior to Covid-19.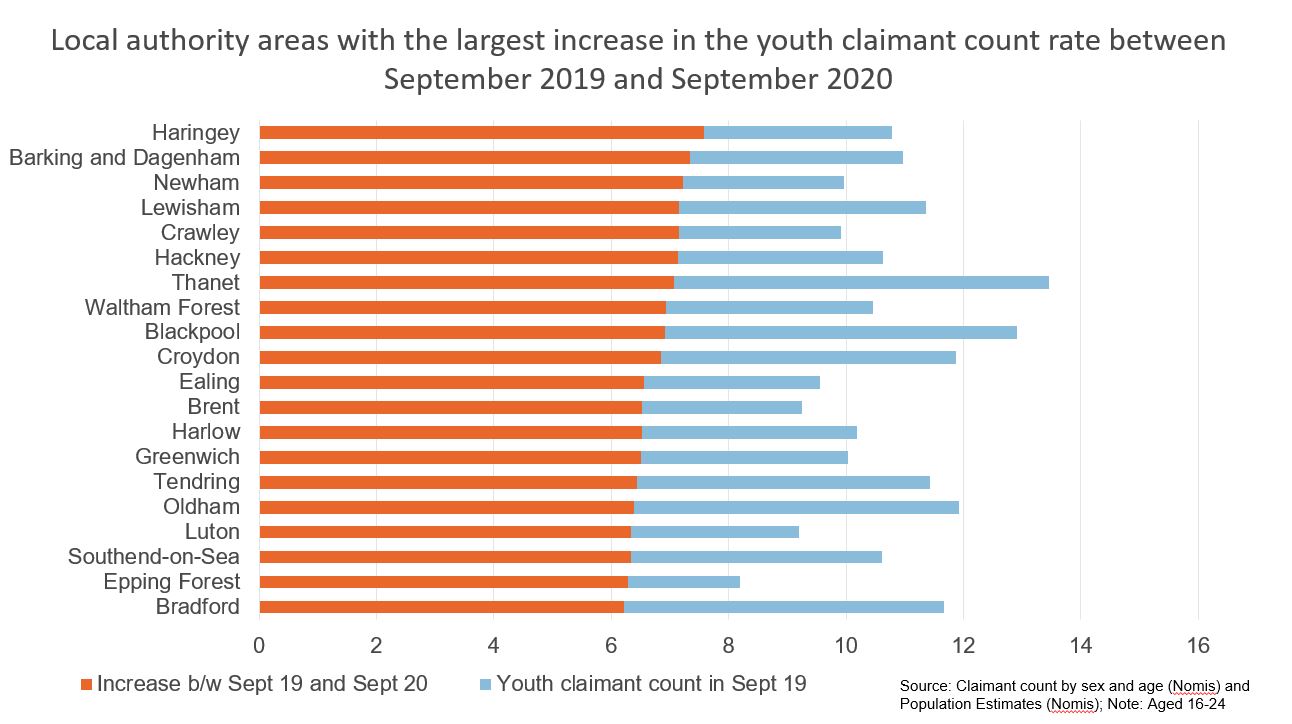 As an earlier Observatory article explains, we have good evidence from previous recessions about which measures from the government's toolkit are most likely to protect young people from scarring effects. With their understanding of their local economy and the employers, providers and other partners in their area, local policy-makers can add value to national policies by sharing information about support programmes, encouraging take-up and coordinating local networks.
Up next
Next week is the US presidential election and we plan to bring you some pieces with a more international flavour, as well as some analysis of debates about the effectiveness of lockdown measures in addressing the pandemic and supporting the economy's longer-term future.
If you have comments or questions on any of the articles published by the Economics Observatory, please get in touch. And do pass on the link to this newsletter to friends and colleagues who might be interested. Anyone can sign up here.
Author: Romesh Vaitilingam (Editor in Chief)