When it comes to Covid-19 policy, the Kingdom is not United. Wales is entering a new 'firebreak lockdown'; Scotland and Northern Ireland face different measures; while a North-South divide has emerged in England with Liverpool and Manchester under the highest level of restrictions.
Newsletter from 23 October 2020
Nine months in and the torrent of information that Covid-19 has unleashed runs faster than ever. Every day brings a deluge of new stories, data releases and government policies. At the Economics Observatory, we aim to clarify what is happening and provide evidence-based suggestions for policymakers.
Our new-look newsletter starts today. Each Friday, the Observatory team will bring you some personal thoughts on the week that has passed, with links to a selection of relevant pieces from top economists both in the UK and globally. We will also flag what is coming up on the site, and in economics more widely. Please do send us feedback, thoughts on any news you would like to see included in future newsletters, and pass on the link to friends and colleagues who might be interested. Anyone can sign up here.
This was the week that the UK's Covid-19 policy truly fragmented. Wales enters a new 'firebreak lockdown' tonight at 6pm: bars, restaurants and most shops will close, and secondary schools will offer online learning for a week, after half term. Northern Ireland, which escaped relatively lightly in the first wave, imposed a different set of new measures a week ago: while in Cardiff 'bubbling' is banned as of tonight, in Belfast it is allowed.
Scotland's system is different again, with Nicola Sturgeon due to set out a five-tier system of restrictions later today. England is even more fragmented: a North-South divide has emerged with Greater Manchester placed under the highest level of restrictions, joining Lancashire and Liverpool City Region in 'Tier 3'. When it comes to Covid-19 policy, the Kingdom is not United.
The Economics Observatory has a range of relevant evidence. In a data-driven piece packed with charts and facts, Guto Ifan and Jesús Rodríguez unpick the impact on Wales. For me, the most concerning is a chart, reproduced below, which shows that the principality was bottom of the pack for working from home. Zoom, Teams, Skype and the myriad of other technologies have provided a kind of a safety valve, allowing work to continue—Wales, where 'WFH' is less common, may thus be harder hit. Check out this and other vital details here and in our new article on Wales' 'firebreak lockdown' here.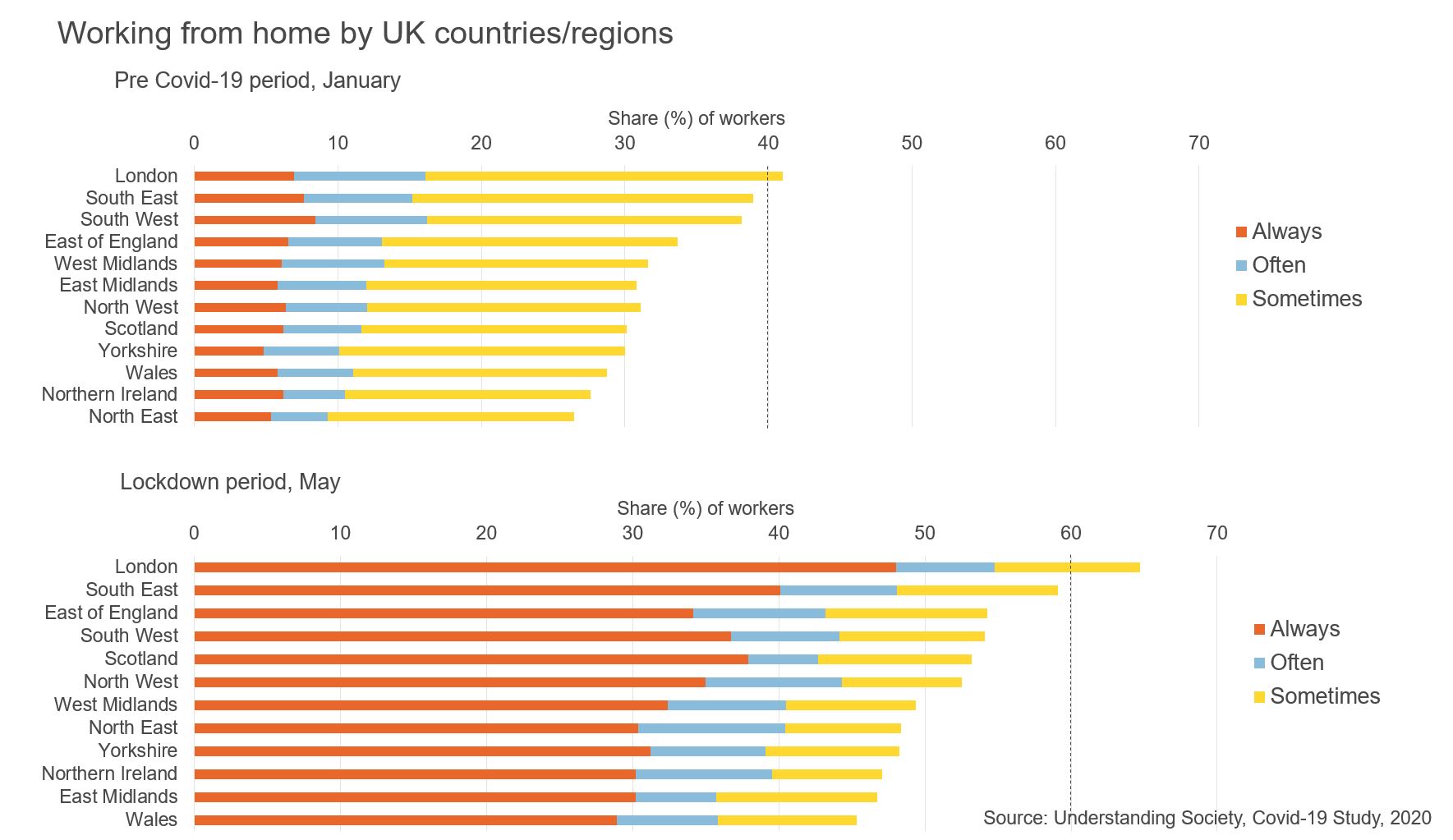 In addition to our newsletter, we are also launching a weekly nugget of data, which we will put up every Friday. The first comes from Helen Simpson, and is a set of maps that give some perspective on why policy in the UK is differing so much from place to place. The prevalence of the virus is highly unequal—the South West, East Anglia and Scottish Highlands have far fewer cases than Manchester or the Welsh Valleys, for example. Helen's other maps link this to economic impact, via the rise in the claimant count. Read her data story here.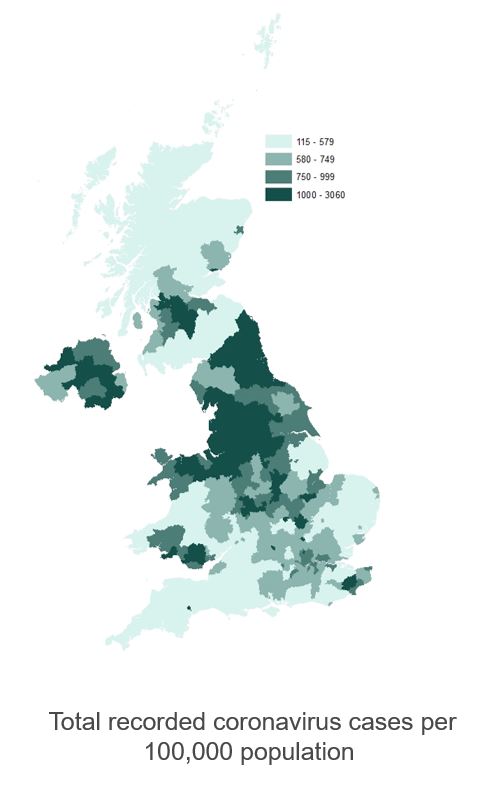 A big question, with all the new and intensifying rules, is whether people will comply. This is the topic of a fascinating read by Marina Della Giusta, Sylvia Jaworska and Steven Bosworth. Policy-makers face a choice: messages can be scary, focusing on threats and losses, or reassuring, focusing on benefits. Reviewing the evidence, the researchers describe how threats and fear can work, but also tend to lead to denial among the public. The optimal policy, the evidence suggests, is to tailor messages to different groups in different ways.
The authors combine behavioural economics with linguistics in a striking example of how Covid-19 has broken the silos that can often define academic careers. If you are worried that public health messages are being ignored, or are a policy-maker designing them, you'll want to read their piece, here.
The new Welsh rules are a reminder that children, via the effect on their schooling, are on the front line of this crisis. The question of school resources, and how they are best used, is the focus of a piece by Luke Sibieta. His work is a reminder that educational inequality is sharpest not in cities, but in coastal towns, including Blackpool. The fear is that Covid-19 will widen these inequalities further.
As the article sets out, there is a clear policy route here: additional resources should be deployed, with mounting evidence for the benefits of individual and small-group tutoring. To offset the loss of a week's teaching, two hours tutoring may be needed for a full year. To read more about this policy, and other ideas, check out Luke's piece here.
A final highlight for me this week was a piece about small business. Intuitively, the nation's smallest companies, the 'micro' SMEs (outfits with up to 10 people) sell far less online than their larger competitors—less than half of them even have a website, as the article by David Nguyen and Manuel Tong sets out. This means it is likely that larger firms were better prepared to adapt to the sudden shift to online shopping.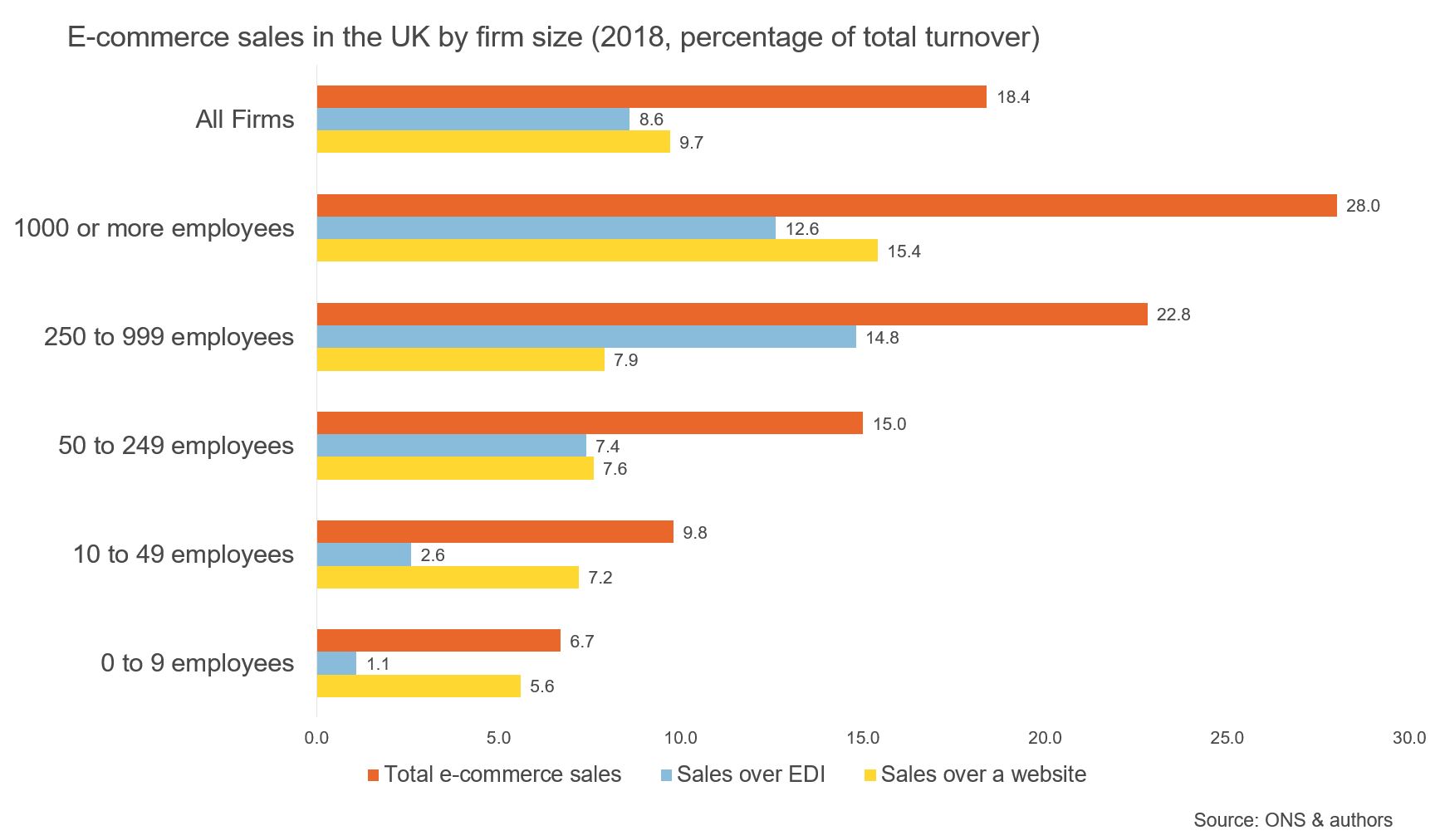 The statistics in the article are concerning, since SMEs and micro make up such a large share of UK companies. When it comes to policy, the piece suggests ways to help small firms engage with e-commerce, though it recognises that the evidence base here is, as yet, thin. To read about how the UK's small firms are coping in the time of coronavirus, read the article here.
Up next
Coming up next week we have several pieces that continue our regional theme, with articles in the pipeline on the economic impact of Covid-19 in Northern Ireland and Scotland. Looking ahead we will ask our authors about the crisis outside the UK, asking more about what we can learn from international experience. If you have comments or questions on any of the articles published by the Economics Observatory, please get in touch using the contact details below.
Author: Richard Davies