Lockdown led to an initial surge in internet traffic as many people switched to working from home – a shift that looks likely to persist. Can we rely on our digital infrastructure? And how big are the inequalities in access?
The volume of traffic over the internet since the UK's late March lockdown initially increased by 25-30%. The country's digital infrastructure has coped well with the surge in usage.
Even so, there are open questions about future investment, about inequalities of access and network capacity, and about whether there is enough competition in the different markets involved. Economists will need to tackle these questions if the future resilience of the UK's internet is to be secured.
What makes up the UK's digital infrastructure?
From its origins as a simple network delivering 'packets' of information through the fixed line telephone network in the 1960s and early 1970s, the internet has evolved into a complex set of technologies and markets – including Tim Berners-Lee's World Wide Web. It is now a global, interconnected set of fixed, mobile and wireless networks, computing devices such as laptops and smartphones, and software applications, with standardised technical protocols enabling the myriad connections.
The internet comprises fixed line and wireless networks, content delivery networks, data centres and internet exchange points. This involves a backbone infrastructure of large cables; fixed and mobile networks and wifi; internet exchange points, which are where interconnections between networks occur; data centres (providing 'cloud' services and often owned by large firms such as Amazon, Google, Microsoft and IBM); content delivery networks and name servers (such as Cloudflare and Akamai); and internet service providers, which are the customer's point of connection through their computing devices with web browsers installed.
Usage of the internet has grown substantially, with around 4.8 billion people globally online. In the UK, 91% of adults use the internet. People are also using online services more and more: the volume of data traffic has grown steadily. Much of the recent growth has been via mobiles, since the arrival of the smartphone and 3G then 4G mobile networks from 2008.
Use of cloud services has also been increasing. Many UK businesses now use some cloud services, such as data storage or increasingly sophisticated artificial intelligence services. Their prices have been declining substantially, by around 90% since 2007, accelerating since 2014, when more data centres started to open in the UK and competition intensified – although Amazon was the first in the market and remains the biggest provider (Coyle and Nguyen, 2018).
The growth of internet usage has been possible in part thanks to continuing technological innovations in data speeds and compression. The data transmission rate on a single installed fibre (the installation cost of which has not changed much in recent years) rose by 1010 times between 1960 and 2015.
For comparison, today's annual sugar consumption in the UK would, if spread evenly across the nation, amount to about the thickness of an oil film on water (about one-thirtieth of the diameter of a human hair or optical fibre). But if the gains since 1980 in installed fibre systems were applied to sugar, the UK would be covered by an extra four metres of sugar each year.
What difference has Covid-19 made?
Openreach, which operates much of the UK fixed line network infrastructure, reported that internet usage surged at the end of March, almost matching the peak traffic the previous Christmas. Statistics from the London Internet Exchange show an initial traffic surge in the second half of March, although it soon settled down.
Figure 1: Daily internet traffic by bitrate, London Internet Exchange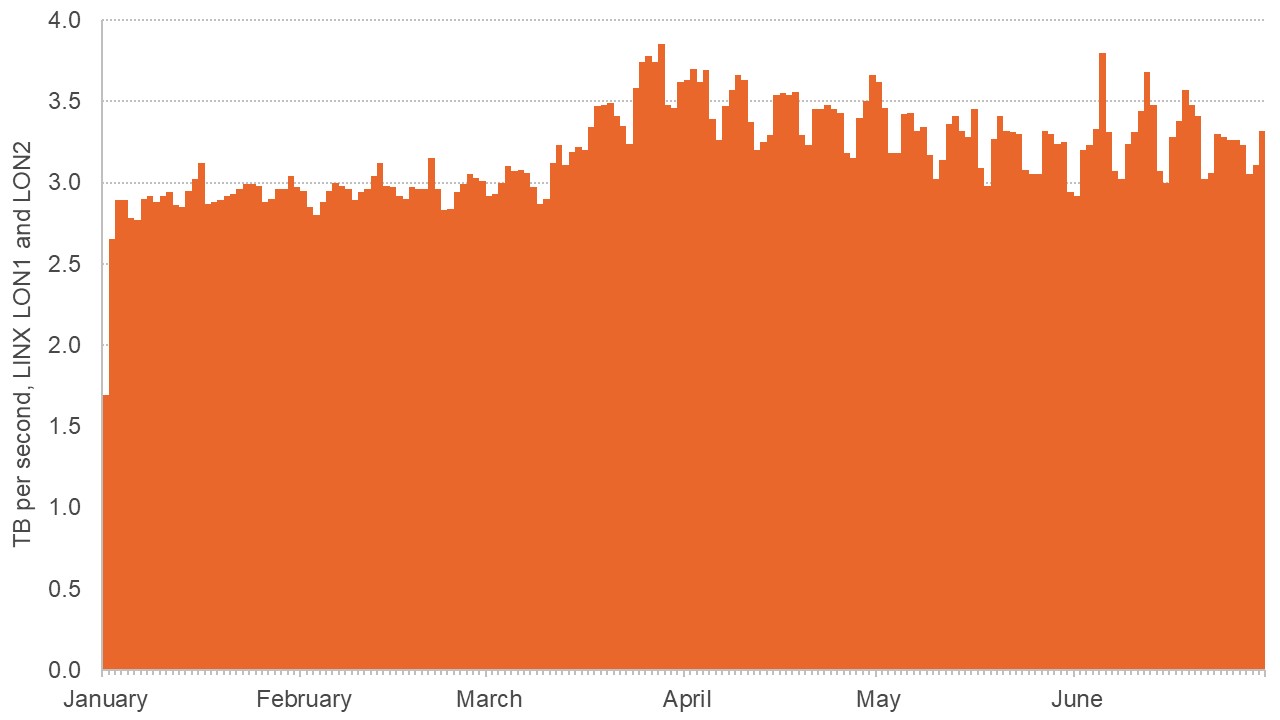 Ofcom, the UK's communications regulator, has reported increases in time spent online across all age groups.
Figure 2: Average time spent online by adult unique visitors per day, by age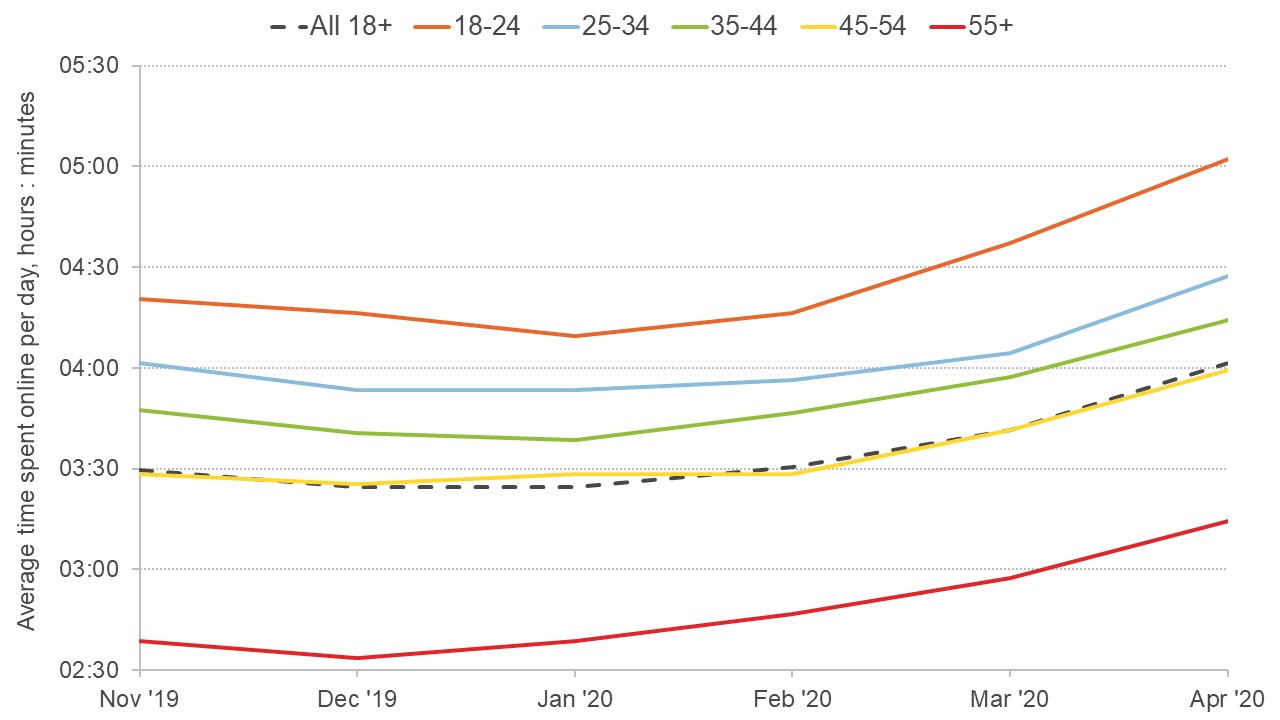 Source: Comscore MMX Multi-Platform, via Ofcom
During lockdown, with households dependent on broadband access as never before, initial concerns that the infrastructure would not cope proved largely unfounded. Content providers and streaming services helped by spreading traffic loads during the day. Ofcom found only small reductions in upload and download speeds. Google explains here how it has been helping the internet to cope.
But many households in the UK experience slow download and upload speeds – Ofcom estimates that there are 189,000 of them. Rural connectivity has been improving although it lags well behind urban connectivity: the proportion of rural lines receiving superfast broadband during peak times is up from 44% in 2018 to 56% in 2019. The government has pledged the rollout of full fibre broadband to every home, although without a specific timetable.
The pandemic has obviously made questions about the 'digital divide' particularly acute – whether between income groups, town and country dwellers, young and old, or any other distinction. Digital exclusion can take several forms: access to skills; access to devices; or access to adequate broadband and wifi.
The latest findings from the Office for National Statistics suggest that one in five people in the UK have zero or only basic digital skills, while only just over half of the lowest-income households have internet access at home, compared with almost all high-income household. This latter divide has serious implications for children who have been unable to attend school. There is also a regional gap in terms of internet use, which is lowest in Northern Ireland and the North East of England.
Related question: What is the likely impact of remote learning on educational outcomes?
When it comes to broadband access, the main challenge is extending reliable and fast broadband to less densely populated areas. This involves both fast fixed line fibre broadband and mobile network coverage. Ofcom measures progress on both fronts: while there has been progress, many coverage gaps remain.
Related question: What has coronavirus taught us about working from home?
What does the economic research tell us and what else do we need to know?
There is relatively little economic research on internet infrastructure, in contrast to a growing number of studies of the digital markets using that infrastructure (including the report of the UK's Digital Competition Expert Panel chaired by Jason Furman, 2019).
It is clear that the costs paid by consumers and businesses have been declining. One study finds that when the prices of telecommunications services are carefully accounted for, they fell by between 37% and 96% between 2010 and 2017 (Abdirahman et al, 2017). Another finds that the price of cloud services in the UK fell by about 90%, depending on the product, between 2007 and 2018 (Coyle and Nguyen, 2018).
Given the resilient performance of the infrastructure during the pandemic, a key question is how to create the incentives for continuing investment to meet superfast broadband targets and extend rural access.
The internet infrastructure will also need to satisfy growing demand from increasing household usage as well as new uses, such as the 'Internet of Things' (that is, increased connectivity within industry), and connected consumer goods such as cars or household items like smart meters.
To date, private incentives have proven adequate, even for costly investments such as a new data centre. This might not continue though, and there may be a trade-off between increased competition in the relevant markets and the ability and incentive to invest.
There is a live debate about investment in the 5G mobile network, and it is looking increasingly unlikely that the operators will be able to use Huawei's equipment to build it. In that case, the costs of building the network will be considerably higher.
The internet, which was designed to withstand nuclear attack in its first incarnation, ought to be resilient: indeed, it has stood up well to the coronavirus crisis.
A further question though is whether additional capacity beyond that needed to meet market demand is desirable to ensure resilience of the infrastructure to future crises. The National Infrastructure Commission has recently set out the need to ensure that networks are resilient to future emergencies, pointing out that resilience is not priced or provided by the market.
Where can I find out more?
The basic economics of internet infrastructure: A recent accessible academic survey of the economics of the internet by Shane Greenstein in the Journal of Economic Perspectives.
The economics of the internet: an overview: This handbook chapter explains why internet economics requires a different approach for the analysis of many standard markets.
Internet activity shifted during the pandemic, for example, from central London to the suburbs, according to web infrastructure company Cloudflare.
Coronavirus: coping with lockdown on poor broadband: The pandemic has put the focus on broadband access, speeds and reliability, with households being online for work and education as well as leisure purposes.
Cloud computing and national accounting: Prices of cloud services have been declining steadily in the UK, according to Diane Coyle and David Nguyen in this Economic Statistics Centre of Excellence (ESCoE) study.
A comparison of approaches to deflating telecoms services output: Another ESCoE study by Mo Abdirahman, Diane Coyle, Richard Heys and Will Stewart finds the same for prices of telecoms services.
Steve Unger, one of the architects of the targets for super-fast broadband in the UK, via fixed lines and 5G, argues that the Universal Service Obligation for providers needs to be more ambitious in the target speeds it sets, and that connectivity problems within homes need to be addressed.
What can internet use tell us about our society and the economy? The Office for National Statistics Data Science Campus has been studying patterns of internet use and how these relate to the economy.
The economics of the internet: infrastructure and regulation: Martin Cave and Robin Mason discuss the regulation of internet infrastructure.
'Pay the wi-fi or feed the children': coronavirus has intensified the UK's digital divide: Hannah Holmes and Gemma Burgess of the University of Cambridge consider the implications of coronavirus for the digital divide.
Who are experts on this question?
Photo by Brett Sayles from Pexels