It seems unlikely that life will go back to normal after coronavirus. The forced experiment of working from home will change the nature of cities. And there may be renewed motivation to tackle pressing social concerns such as climate change in a green recovery.
Newsletter from 19 February 2021
More than 16 million people have received a first vaccination dose for Covid-19, and it seems likely that the UK's schools will re-open not too long after the half-term holidays. So perhaps now is a good time to look up from our immediate health and economic concerns, and think about what comes next. Can we really just go back to life as normal – or is it time to deliver on the widely expressed hope of 'building back better'?
This is a recurring theme in the latest contributions to the Economics Observatory. Indeed, a longer-term perspective on coronavirus and the economy is what we've tried to provide ever since our launch back in June last year.
To answer some of the big questions we face, our writers have drawn on evidence from past crises to explore the future of cities with so many of us working from home; how we can balance the need to promote environmental sustainability with the desire for economic recovery; and whether the collective financial hit will make us care more or less about the wellbeing of others. This week, we've come back to each of these topics.
Sound of the suburbs
In the early days of lockdown, it felt like the switch to remote working for millions of people would only be temporary. Now, almost a year on, could there be a more permanent shift on the horizon? And if so, what does that mean for patterns of 'economic geography' – the balance between where people live, work and spend? And how might this affect city centres, suburbs and the countryside?
That's what Gianni De Fraja, Jesse Matheson and James Rockey have been exploring with a measure they call 'zoomshock' – the net inflow or outflow of workers into small geographical areas (nearly 1,000 in the case of London) – and what that means for local businesses that ordinarily serve incoming commuters.
In places like the City of London, which has experienced a huge negative zoomshock, it's been very bad news for shops, restaurants and gyms. But while there could be substantial job losses for such businesses in city centres, there is potential for growth and new establishments in other areas like the suburbs.
Zoomshock for Greater London, by MSOA and borough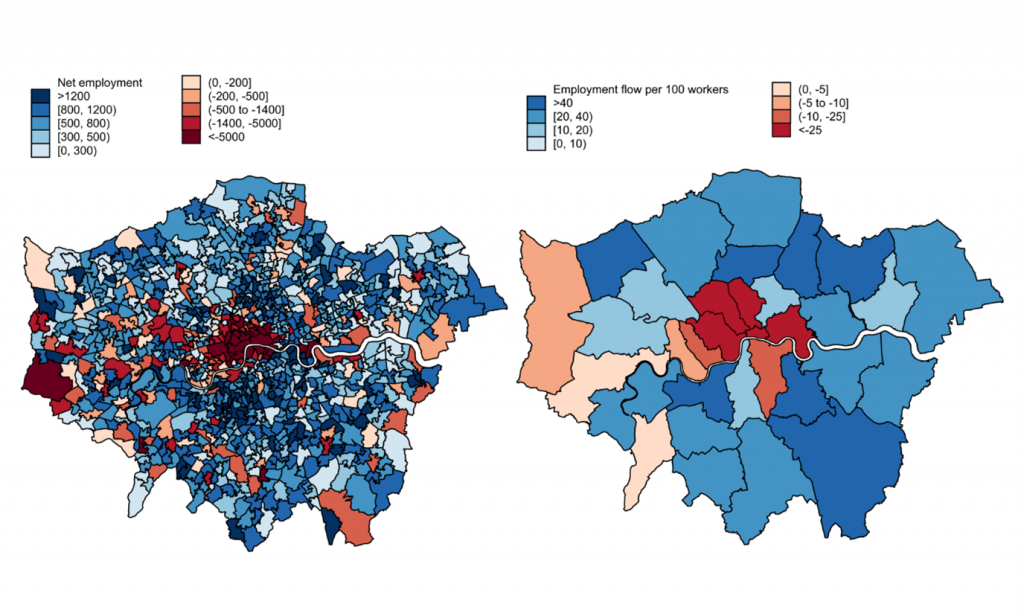 Source: Authors' calculation based on data from the ONS Annual Survey of Hours and Earnings, 2017, 2018, 2019
The longer-term consequences will naturally depend on whether workers go back to their offices. But the 'forced experimentation' with remote working of the past year has shaken up how both staff and employers think about the workplace, and permanent changes seem likely. Mass commutes on a daily basis may well be a thing of the past.
Warm glow
The move to working from home is what researchers refer to as a natural experiment: it's happening in the real world, now let's see what we can learn from it. But laboratory experiments can also help us understand human behaviour and its possible consequences. In their Observatory piece, Alexandra Baier, Esther Blanco and Natalie Struwe outline what we know about 'warm glow' – the extent to which people care about others and feel good about doing good.
Top donation cause areas by percentage of total donations (2016-2019)
There's a great deal of experimental evidence showing people's 'pro-social concerns', which fits with day-to-day observation of charitable donations, volunteering and philanthropy. There's also evidence of increased giving in response to appeals for financial aid in the wake of natural disasters like hurricanes and tsunamis.
But, these authors ask, what happens with a global crisis? Might Covid-19 lead to donations being diverted from other causes? More broadly, could it be distracting us from other pressing social concerns, such as tackling climate change and reducing inequality?
 Looking across the data so far, including from their own work, they conclude that while there is a partial substitution of social concerns, the pandemic is not a total distraction. They are optimistic about society's desire to maintain support for climate action and poverty alleviation, alongside fighting Covid-19.
Green recovery
Our other new article this week picks up the baton on environmental matters in the aftermath of the crisis, focusing particularly on the potentially important role of green finance in promoting a sustainable recovery.
Top central bankers, including former Bank of England governor Mark Carney and the current president of the European Central Bank (ECB), Christine Lagarde, have been pushing this agenda. But as one of our earlier pieces shows, far from being green, the ECB's monetary policy has not even been 'carbon-neutral': its asset purchase programmes have tended to favour polluting industries.
The new piece – by Theodor Cojoianu, Andreas Hoepner and Fabiola Isabel Schneider – looks further at central banks' role, but also more widely at private investment strategies that can support green objectives. These include investing in only the top environmentally sustainable companies across sectors; designing investment portfolios that don't include fossil-fuel producers and users; and divesting from fossil-fuel-based economic activities.
This team of authors also end on an optimistic note: green investing can support a green recovery, both by promoting sustainable sectors and by diverting funds away from heavy polluters. And fiscal and monetary authorities can help to create the right incentives as we come out of the Covid-19 crisis.
Dates for the diary
Finally, what comes next in terms of public conversations about economic research and policy-making? Three upcoming online events are worth checking out.
Lessons from a pandemic year for macroeconomic & financial stability policy: In a high profile webinar today, Larry Summers, top US economic policy-maker in both the Clinton and Obama administrations and outspoken commentator on a potential 'overheating' impact of the Biden coronavirus relief plan, will be talking to former Bank of England deputy governor Paul Tucker. Paul wrote a provocative piece for the Observatory recently on the need for what he describes as 'a new constitution for central banking' in the wake of the global financial crisis of 2007-09, persistently weak growth and now Covid-19.
Royal Economic Society 2021 annual conference: The UK's annual bash for economic researchers, which will take place virtually this year, features lectures by the Society's two most recent past presidents: Nick Stern, author of the eponymous 2006 report on the economics of climate change and contributor to the Observatory on the potential role of a national investment bank in recovery from the crisis; and Rachel Griffith, who spearheaded the Observatory's early stages, remains a lead editor and has written several pieces, including on obesity, supermarket prices and whether anyone has been made better off by coronavirus.
Economic History Society 2021 annual conference: The equivalent gathering of economic historians will also be virtual and feature several researchers who've written for us on key questions: what can looking back at the past teach us about what comes next? And can it help us think through how best to build back better?
Author: Romesh Vaitilingam, Editor-in-Chief
Photo by Pixabay for Pexels