Covid-19 brought the travel industry to a halt. Vaccines have helped to control the virus, allowing the return of international travel. But new challenges, including the war in Ukraine and a stalling recovery in China, mean that the sector faces more difficult times ahead.
The pandemic brought the international travel industry to an almost total standstill. Lockdowns imposed around the world resulted in a 49% decline in activity and a loss of close to $4.5 trillion (£3.7 trillion) compared with 2019.
While a recovery is under way, limitations, ambiguity and complexity as a result of the pandemic and the war in Ukraine – which is also driving higher airline costs – might still prevent some passengers from travelling abroad this year.
A priority for policy-makers should now be to restore travel connections, to protect an industry worth 11.3 million jobs. Prior to the pandemic, the sector contributed almost $9.2 trillion (£7.6 million) to the global economy.
The global tourism industry, as it recovers from the effects of Covid-19, might have contributed $8.6 trillion (£7.1 trillion) to the world economy this year, according to data from the World Travel and Tourist Council (WTTC). That would be just 6% less than before the pandemic struck.
This forecast came just before the Russian invasion of Ukraine in February 2022 and was contingent on the vaccine and booster rollout continuing at current rates and restrictions to international travel being eased.
Currently, the recovery of the travel industry risks being delayed by 12-24 months to 2024 because of factors such as persistent inflation, high energy prices, labour shortages at airports, and lockdowns in China. The partial rebound this year is being driven mainly by the lifting of travel restrictions in many locations. Starting from June 2022, the United Nations World Tourism Organization (UNWTO) reported that there were no Covid-19-related restrictions in place in 45 locations, 31 of which are in Europe.
As more places reduce or remove travel restrictions, and the demand pent up during the pandemic is released, the expectation is that there will be a steady recovery, supported by the summer holiday season in the Northern hemisphere.
Before the war, international travel increased by 182% during the first three months of 2022, compared with the same period last year, according to the most recent UNWTO World Tourism Barometer.
Around 60% of international arrivals in the first three months of this year were registered in March alone, indicating that the recovery in the tourism sector was gaining momentum.
According to the same UNWTO data, the first quarter of 2022 saw over four times as many foreign arrivals (+280%) in Europe as in the first quarter of 2021. This increase was mostly due to high intra-regional demand. Arrivals in the Americas increased by 117% in the same three months.
Despite these encouraging signs, the global economy is projected to falter in the second half of 2022. Several forecasters have recently revised trade and GDP figures downward worldwide.
The war in Ukraine represents a threat to the recovery of the global economy and to the tourism industry itself. Besides causing travel problems and increasing country-risk in Europe, the conflict is also driving up already high oil prices and inflation. It is also causing further disruption to global supply chains.
This may suppress demand through higher costs of travel and accommodation. Indeed, with expanding operations and increasing fuel prices, travel costs will go up in 2022. Prices for kerosene surged to an average of $74.50 (£61.70) per barrel in 2021, and it is anticipated that they will rise to $77.80 (£64.41) per barrel in 2022. As a result, international tourism remains 61% below 2019 levels, based on the latest available (June) UNWTO data. In particular:
Arrivals in the Americas and Europe are still 46% and 43% below pre-pandemic levels, respectively.
Although there was significant growth in the Middle East (+132%) and Africa (+96%) in the first quarter of 2022 compared with the same quarter last year, arrivals were still 59% and 61% below 2019 levels, respectively.
Asia and the Pacific saw the smallest growth among international destinations, remaining 93% lower than in 2019. This is largely because China has still not completely re-opened to international tourism, as well as further virus flare-ups that have required localised lockdowns.
How has international travel been affected by Covid-19?
International tourist arrivals
Between January and October 2020, the pandemic triggered a 70% decline in international tourist arrivals compared with the same period in 2019. This was caused mainly by people not wanting to spend money on flights or not being allowed to fly due to government restrictions.
Although the sector is recovering, tourist arrivals were still below pre-pandemic levels between January and March 2022 (see Figure 1).
Figure 1: Change in international tourist arrivals since 2019 (year-on-year percentage change)
Source: UN World Trade Organization (UNWTO)
As demand in Europe started to rebound, the industry struggled to keep up, particularly in the UK, as airports could not hire enough staff to meet passenger traffic that was higher than expected. While the UK is currently facing a tight labour market with more vacancies than job-seekers in the service sector, the travel industry has been hit particularly hard due to the high number of layoffs during the pandemic.
Number of commercial flights
One significant effect of the removal of travel restrictions has been the increase in the number of commercial flights in 2022. By the end of 2020, commercial flights were down 41.7% compared with 2019, having plunged initially by 74%, according to Flightradar24.
During the first seven months of 2022, flight traffic continued to follow seasonal trends in line with a gradual recovery from the previous years, although commercial flights in July remained about 16% below 2019 levels (see Figure 2). This is higher than the air traffic seen in July 2021, where commercial flights were about 34% lower than pre-pandemic levels.
Figure 2: Number of commercial flights (seven-day moving average)
Hotel occupancy rates
Hotel occupancy rates (the percentage of occupied rooms at any given time compared to the total number of available rooms) have been recovering steadily. The proportion of people staying in hotels fell dramatically across all regions in 2020, with an average drop of nearly 50%.
Before the war in Ukraine, hotel occupancy rates and room revenue were projected to approach 2019 levels in 2022. Occupancy was projected to hit 63.4%, exceeding the 44% reached in 2020.
As of 11 April 2022, the UK's rolling 28-day occupancy was 87% of what it was in 2019. The next-highest occupancy indexes were recorded by Poland (84.5%) and Ireland (81.3%), according to the STR. In the former case, the increase in occupancy has been, in part, the result of housing refugees during the early stages of the invasion of Ukraine.
Industry profits
After a $51.8 billion (£42.9 billion) loss in 2021, net industry losses are predicted to fall to $11.6 billion (£9.6 billion) in 2022. But while the peak of the crisis has passed, the net industry loss is over $200 billion (£166 billion) from 2020 to 2022 (see Table 1).
Table 1: Travel industry demand, capacity and profits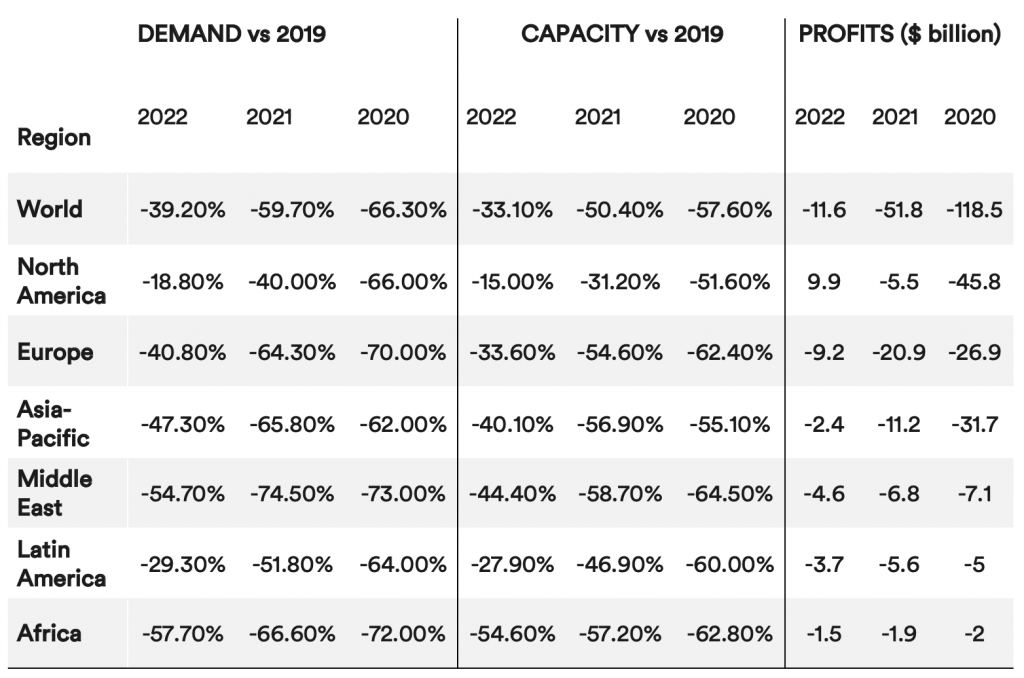 Source: International Air Transport Association (IATA)
The only region registering positive net profits is North America. Overall, the industry's capacity and demand remain below pre-pandemic levels, with the highest losses recorded in Africa, the Middle East and the Asia-Pacific region – the last mainly driven by China's slowdown.
Is a recovery under way?
Revenues
In 2022, revenues from international travel increased by 4% in real terms from 2020. The strongest outcomes were seen in the Middle East and Europe, where earnings increased to almost 50% of pre-pandemic levels. The increase follows a drop of about $1 trillion (£828 billion) in revenue from foreign travel in 2021, on top of the trillion lost during the first year of the pandemic.
Confidence
As long as the virus is contained and destinations continue to relax or lift travel restrictions, 83% of tourism professionals predict better prospects for 2022 compared with 2021. But the prolonged closure of a few significant outbound markets, namely in Asia and the Pacific, as well as the uncertainty brought on by the war, might postpone a full recovery of global tourism this year.
Just under half of UNWTO experts (48%) now see a potential return of international arrivals to 2019 levels next year, while a slightly smaller percentage suggest this could happen in 2024 or later (44%).
Passengers
The rebound in air travel intensified with the start of the summer holiday season in the Northern hemisphere. Compared with May last year, total traffic increased by 83.1%, driven mainly by international traffic, although remaining about 31.3% below pre-pandemic levels. Compared with May 2021, international traffic increased by 325.8% in May this year. In particular, between May 2021 and a year later:
Traffic on Asia-Pacific airlines increased 453.3%. While the majority of travel restrictions in Asia are being lifted, the main exception remains China. Here, domestic travel plunged by 73.2% from the previous year, as a result of its zero-Covid-19 policy.
Traffic for Europe increased by 412.3%, although uncertainty and high energy costs due to the war in Ukraine will have a direct influence on certain locations.
Middle Eastern airlines saw traffic increase by 317.2%.
Traffic for North America increased by 203.4%.
Latin American traffic increased 180.5%, with some routes, such as those to and from Europe and North America, performing better than expected.
Drivers of the international recovery
Global demand
Global demand is anticipated to increase to 61% of pre-crisis levels in 2022 – 20 percentage points higher than in 2021. The recovery is being driven by domestic demand, with most countries now imposing fewer travel restrictions.
One of the main components of the global demand for travel will be pent-up savings. But persistently higher inflation globally is resulting in a sizeable hit to household spending in real terms, as incomes fail to keep up with prices. In the UK, the number of households that have run down their savings is set to double by 2024, according to research by the National Institute of Economic and Social Research (NIESR). This suggests that savings-driven demand for travel might be limited or absent for some income brackets due to soaring bills.
Overall, international demand is recovering but at a slower rate than previously forecast. IATA expects that by 2022, global demand for travel will be only 44% of what it was pre-pandemic.
Vaccinations
With a few exceptions, rapid progress in vaccine administration – particularly among advanced economies – has resulted in a gradual re-opening of borders. It will take longer for tourism to be revived fully, particularly in regions where vaccine distribution has been slower, such as in low- and lower-middle income countries. This will also be the case where vaccine efficacy is lower against new variants (such as certain developed economies in the Asia-Pacific region, including China).
What else do we need to know?
The effects of Covid-19 on the travel industry provides an opportunity to reconsider the future of tourism and accelerate longstanding priorities such as addressing climate change and promoting a renewable energy transition (Organisation for Economic Cooperation and Development, OECD, 2021).
Governments must encourage the structural changes required to transform the sector in line with future health and environmental challenges. This should include implementing digital solutions that make it safer and simpler for consumers to travel, such as using artificial intelligence and data-sharing, implementing enhanced harmonised biometric standards for identity verification and travel eligibility, as well as prioritising digital border management through e-visas and e-gates.
At the same time, international cooperation and multilateral agreements should continue to ensure that COVAX-supplied Covishield vaccines are accessible evenly and widely , which will help to avoid double standards that risk penalising low- and low-middle-income countries even further.
In response to the pandemic, the G20 in Rome has issues several recommendations for the future of tourism. These are based around seven interrelated policy areas: safe mobility; crisis management; resilience; inclusiveness; green transformation; digital transition; and investment and infrastructure. Addressing these will require international organisations to use the full extent of their resources to restore travellers' confidence, while helping the tourism industry to adapt and survive.
Where can I find out more?
Who are experts on this question?
Corrado Macchiarelli (NIESR)
David Roberts (ONS)
Dawn Holland (NIESR)
Donald Houston (University of Portsmouth)
Simeon Djankov (LSE)
Author: Corrado Macchiarelli
Editor's note: This is an update of an Economics Observatory article originally published on 22 April 2021.
Picture by Heychli on iStock