Hopes of a return to some kind of normality for the UK's retail sector this holiday season have been set back by the Omicron variant. Shops also face big challenges in the form of online competition, supply chain problems and staff shortages.
Christmas is a vital trading time for retailers, a period when many make their profit for the year. This holiday season is again being disrupted by Covid-19, as well as wider supply and operational issues. While they may be in a better position than at Christmas 2020, retailers remain nervous about the situation.
How have shops been affected by the pandemic?
Retailing has been one of the sectors most affected by the pandemic and policy responses. The division of shops into essential and non-essential categories (and the forced closure of those deemed non-essential), as well as various lockdowns restricting travel and movement, have all had an effect on trading. Increased online purchasing has also affected physical shops' sales. But local and convenience retailing benefited from travel and movement restrictions, and food retailing generally gained from a transfer of sales through working from home.
These effects were particularly notable in the run-up to Christmas 2020 and the very late introduction of restrictions on movement and family gatherings. Uncertainty clouded the vital December trading period, with a further lockdown and closure of non-essential shops coming in on Boxing Day and then lasting several months. Christmas was disrupted for everyone and many retailers struggled. The start of the vaccine programme in early December 2020 only offset this marginally.
The current headlines may not yet quite be the same as 2020, but there are clear echoes. The Omicron variant is casting doubt on the safety of travel, meeting friends and family, and attending Christmas and New Year gatherings or parties. Mask-wearing in shops and on public transport in England has been reintroduced (to match other parts of the UK), and guidance to work from home has been reinstated. Government messaging is about taking sensible precautions, restricting movement and social interactions, testing (for example, before going shopping) and getting the booster vaccination. In Scotland, social distancing in shops is being reimposed.
So, is Christmas 2021 any different from Christmas 2020 and, if so, in what ways?
Why does Christmas matter?
In any year, the Christmas season is vitally important for retailers. It is for consumers a holiday season – one of celebration, feasting, presents and enjoyment. It also has religious, cultural, symbolic and psychological dimensions. Consumer spending rises by about 30% at Christmas time.
Preparations for Christmas start many months ahead, and so any disruptions can have significant effects. The massive increase in overall sales and in some product lines, both in volume and value terms, often makes the difference for the trading year (see Figure 1). Getting Christmas right ensures that some businesses are in profit and the cash flow generated becomes critical for sustaining operations.
Figure 1: How much more do we spend in December compared to a typical month?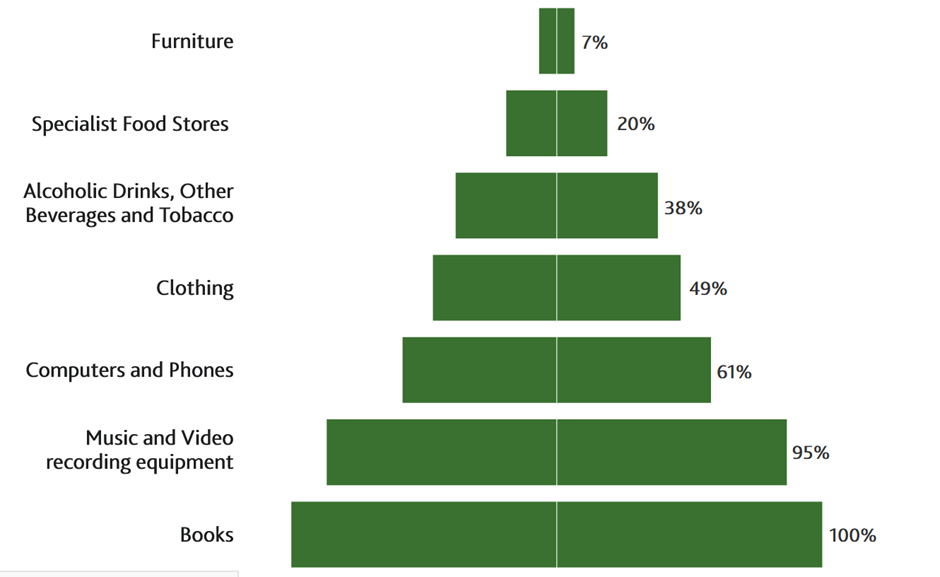 Christmas 2021 is vital not only for the normal reasons, but also because last year was so heavily disrupted. As a trading year, 2021 as a whole has been highly unusual. For some retailers, the Covid-19 boost (local shops, internet providers or food) has continued as restrictions came and went. But for others (mainly non-essential shops), there has been more mixed fortunes with recovery and survival still not assured. This has varied by sector (booksellers, for example, have benefited in recent months from a surge in reading), and location (with cities more adversely affected than towns by the patterns of working from home and the lack of international tourists).
How has Covid-19 continued to change retail trade?
The pandemic has altered retail sales in several ways. There has been a rise in internet sales over a long period (see Figure 2). Online sales at Christmas have become more important over the years, with the pandemic magnifying this trend. While online sales penetration has settled back from its lockdown peaks, the pattern is still running above previous long-term growth levels. Consumers have in the past used the internet increasingly for Christmas purchases and seem likely to do so again this year.
Figure 2: Internet sales as a percentage of total retail sales

But this reduction in sales at physical shops is not uniform. The effects are differentiated by product, as well as by location. Cities, which are dependent on workers and visitors, have seen a slower return of both. Footfall levels are below pre-pandemic levels (see Figure 3) and working from home remains the pattern for about 30% of previous commuters. Smaller towns and communities have gained from people working from home or staying local
How these trends interact for Christmas spending will be important, but highly locally dependent. There is already some evidence that Black Friday, for example, was less of a physical shopping event than in previous years. This may also hold for Christmas.
Figure 3: Footfall in the UK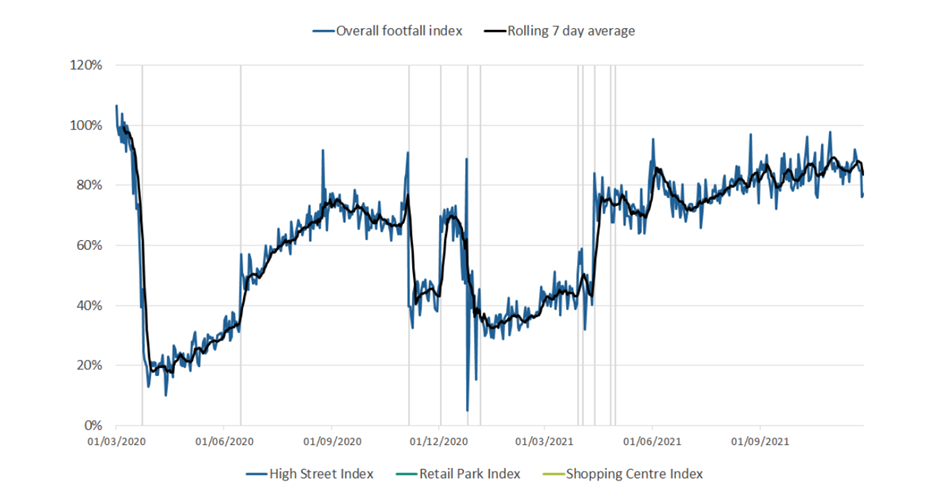 Source: ONS
There is a further dimension to Covid-19 disruption. Brexit had already introduced stresses into the retail sector, most clearly in the previously smooth flow of products from Europe being disrupted and labour force shortages arising from European workers returning to their home countries. One example of these factors coming together was seen in the lack of availability of lorry drivers and lorries.
Covid-19 has added to these issues. The so-called 'pingdemic' of the summer and the requirement for testing, tracing and isolation hit the retail (and its supply chain) workforce. On a global scale, Covid-19 has altered international demand and supply patterns, making trade less certain and smooth, causing logistics to splutter. The lack of containers (or more accurately, lots of containers being in the wrong places) is the main manifestation of this for global trade. Smooth, efficient and cost-effective supply is no longer guaranteed. These issues are neatly illustrated by the journey of a toy for Christmas from manufacturing to retailing.
What are the main challenges facing shops this year?
On the supply side, the difficulties of ordinary supply chain reliability are amplified by the volume of Christmas trading. With issues in both production and distribution, empty shelves in the autumn became an increasingly common concern for consumers. This is a major issue in the run-up to Christmas: can products make it to the shops?
Retailers are also worried about the willingness of consumers to spend, whether in shops or online. Consumer confidence is not strong, although higher than in 2020 (see Figure 4). While the labour force has held up well overall, there are residual fears of the impact of the pandemic on employment levels. If the new variant takes hold quickly, confidence may be hit, large numbers of workers and shoppers might have to isolate, spending plans will be scaled back and demand reduced.
Figure 4: Consumer Confidence in the UK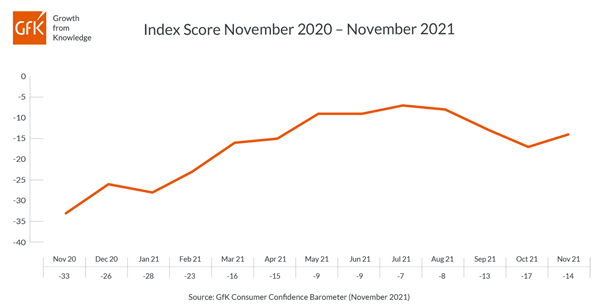 Then there are the operational challenges facing retailers. New vacancies in the retail sector are highly apparent, especially in the supply chain but also in shops (see Figure 5). This means that shops may face increasing labour challenges. Attempts to recruit permanent and temporary Christmas workers have become much more competitive and expensive. The reimposition of mask-wearing in shops in England adds more tension and costs to retail businesses. Further regulation in Scotland affects customers flow-through and confidence.
Figure 5: Online job adverts in the UK, selected sectors
Volume of online job adverts by category, index: 100 = February 2020 average, 4 January 2019 to 26 November 2021, non-seasonally adjusted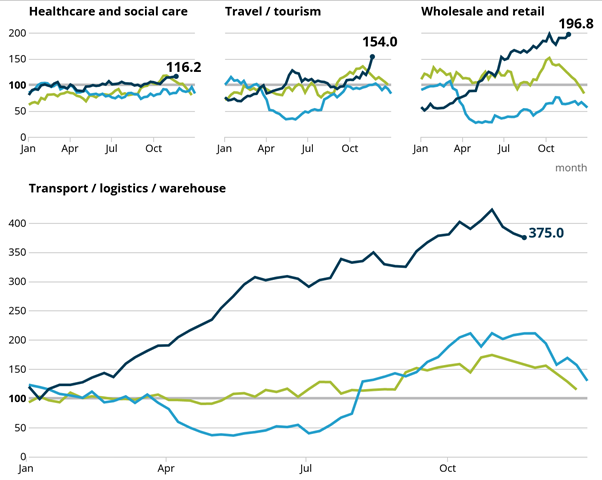 Source: ONS
Inflation is also at a ten-year high, with price changes being driven by rising transport and energy costs (see Figure 6). This puts further pressure on retailers as consumers feel their cost of living increasing. For many, there is real concern about this, both for Christmas and beyond, with a rise in food and other poverty and inequalities increased by Covid-19.
Figure 6: UK CPIH Inflation Rate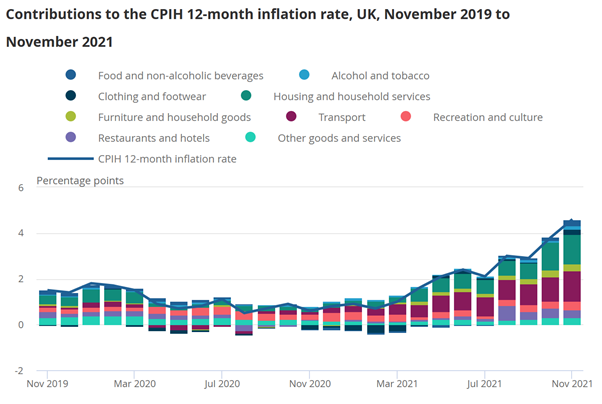 Source: ONS
How are retailers reacting to this challenging period?
At one level, retailers have approached Christmas this year as 'business as usual'. There have been the usual advertisement campaigns, seasonal products promoted and a sense of normality. In many cities this year, Christmas markets have reappeared after last year's absence, providing a distinct visual change. Certainly, until late November, on the surface things were looking stable.
Underneath, however, retailers have had to react to the challenges they are seeing. Global supply issues have seen retailers take matters into their own hands to secure supply. Asda and John Lewis are among those to have chartered their own container ships. Amazon is building its own global supply system. Others laid in stock earlier than they might have done otherwise.
There is also the 'new business as usual'. Retailers have been striving hard to meet the online Christmas demand and those with internet offerings have stepped up these services, including focusing on queue management for expanded Christmas supermarket delivery slots. Finding ways to book customers into slots for delivery/collection and trying to predict demand more accurately has become increasingly important.
A further indication of the changing structures of retail sales at Christmas and the stresses that the sector is under comes in the voluntary decision of a number of leading chains to close their shops on Boxing Day. While Boxing Day falls on a Sunday this year, which may have added some impetus, the decision to stay shut (though not on the internet, where Christmas Day is a big retail day now) and not hold a Boxing Day sale is a signifier of the state of the sector.
The rising use of the internet for shopping during the pandemic has been accompanied by the demand for increasing speed of delivery. Same-day or next-day delivery are now standard, and in some urban areas, delivery is quoted in minutes or hours for some products. This becomes an issue for retailers at peak times and many have responded by not guaranteeing delivery speeds in the days before Christmas Day and over the festive season.
Until a few weeks ago, Christmas 2021 was shaping up to be a little more 'normal' than Christmas 2020. While there were concerns in the form of supply issues, driver shortages, staffing issues and price and cost rises, these were standard business issues, albeit at a scale retailers have not faced for some time. Christmas was set to be a time of celebration and consumer sentiment seemed to reflect this optimism.
But the Omicron variant has complicated the situation. While retailers can attempt to mitigate the business pressures identified, uncertainty surrounding the impact of the new strain is casting doubt on the ability to have a normal holiday season. Uncertainty about the virus, labour, delivery, product and the shape and place of consumer demand are making this a more nervous time than anticipated a few weeks or even days ago.
Despite this complex array of challenges, the situation still appears to be better than it was at Christmas 2020. Most adults have been vaccinated (with boosters rapidly catching up) and seem to be willing to spend. Consumer confidence, while not high, is well above last year. Retailers have tried to mitigate the many issues they face.
Although some activities could well be curtailed, there will as always be some retail winners and losers at Christmas – one suspects more of the former than the latter this year. Christmas is never a simple time for retail businesses across the UK, but its importance means that they will do everything they can to make it a success.
Where can I find out more?
Who are experts on this question?
Leigh Sparks
Cathy Parker
Author: Leigh Sparks
Photo by Jonathan Ricci on Unsplash