Global stock markets surged on 9 November when Pfizer and BioNTech announced the development of a vaccine estimated to be 90% effective. But there has been considerable variation in the impact of the news on the share prices of different companies and sectors.
The outbreak of the Covid-19 pandemic in March caused global stock markets to fall dramatically in a matter of days (Campbell, 2020).
After the first few weeks of lockdown, the markets began to bounce back and, in the case of the United States and China, surged above their pre-pandemic levels (Quinn and Turner, 2020). But the US bounceback was largely driven by the NYFANG companies (Facebook, Amazon, Apple, Netflix and Google), which had seen a substantial increase in demand for their services and products because of lockdown (Reggiani et al, 2020).
Global stock markets were given a big lift by the November announcement from Pfizer and BioNTech of the development of a vaccine tested on 43,500 people across six countries and estimated to be 90% effective. The two companies said that they hoped to produce 1.3 billion doses of the vaccine by the end of 2021.
There was notable variation in the share price impact of the news on different sectors and individual companies.
What moves stock markets?
The answer is simple: news. According to Nobel laureate Eugene Fama, stock markets quickly and efficiently aggregate the views of investors (Fama, 1970). Consequently, when new news is announced to the market, investors quickly process the information, and the news is reflected in share prices.
Pfizer's announcement to the market resulted in its share price increasing by almost 15% within the first few hours, but it has gradually declined since then, returning to near its pre-announcement level (see Figure 1). Initially, the share price of AstraZeneca, whose AZD1222 vaccine is in stage three trials, fell slightly after Pfizer's announcement, but it has since recovered. The overall expectations for both companies seem to be that there will be muted impact on their profitability, given the public health priority (Burn, 2020).
Figure 1: Pfizer and AstraZeneca share prices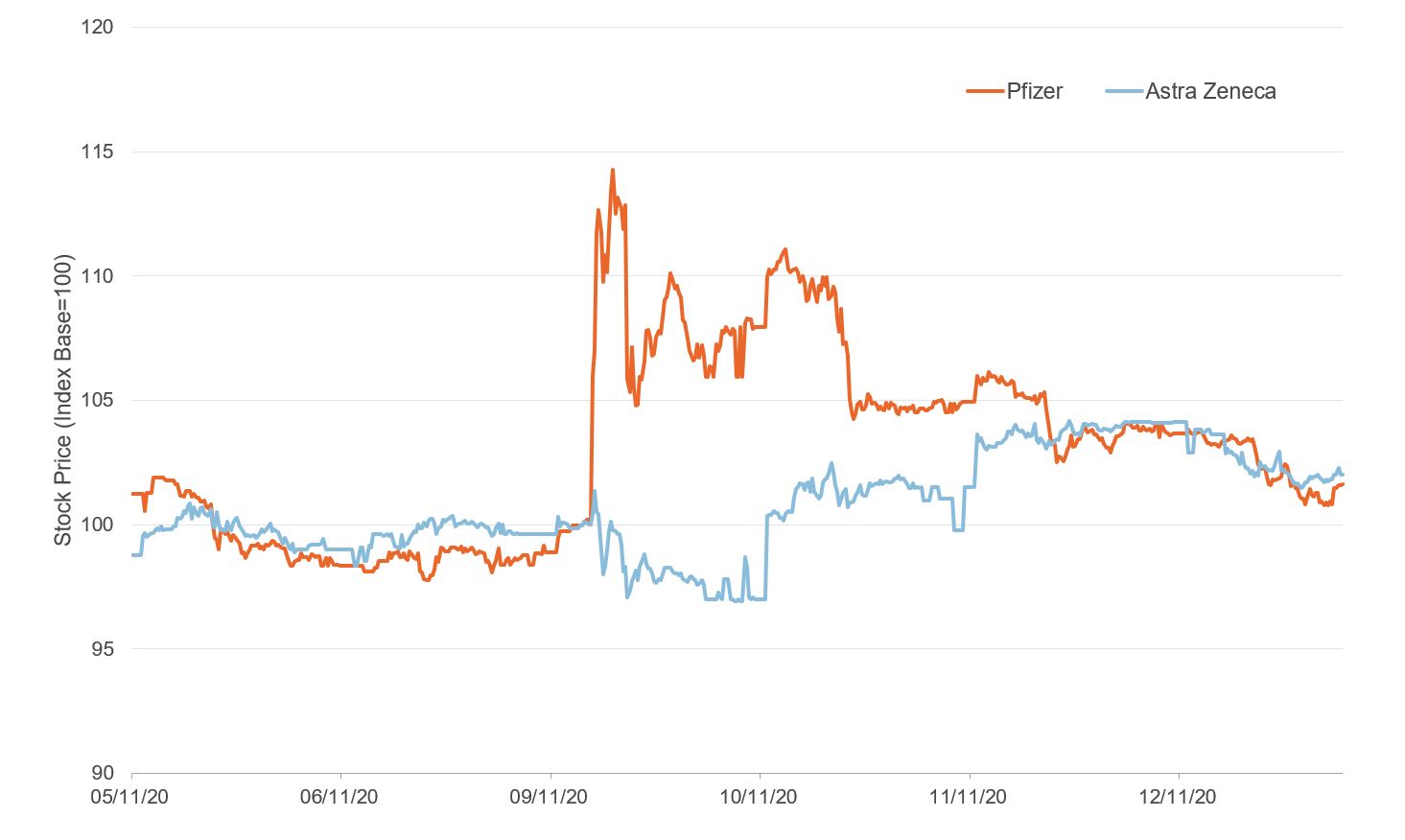 The good news announcement from Pfizer has had a more substantial, and durable, impact on stock markets than on the firm itself. The reaction of markets in various economies is shown in Figure 2.
Why did the markets react in this way? A vaccine will allow economies to exit the Covid-19 restrictions and lockdowns, and return to normal. Notably, some of the largest gains were experienced in countries hardest hit by the pandemic – for example, Spain (IBEX 35) and France (CAC 40). The response was much more subdued in China, largely because they have managed to keep Covid-19 under control much more effectively than other countries.
Figure 2: World equity indices (five-day return)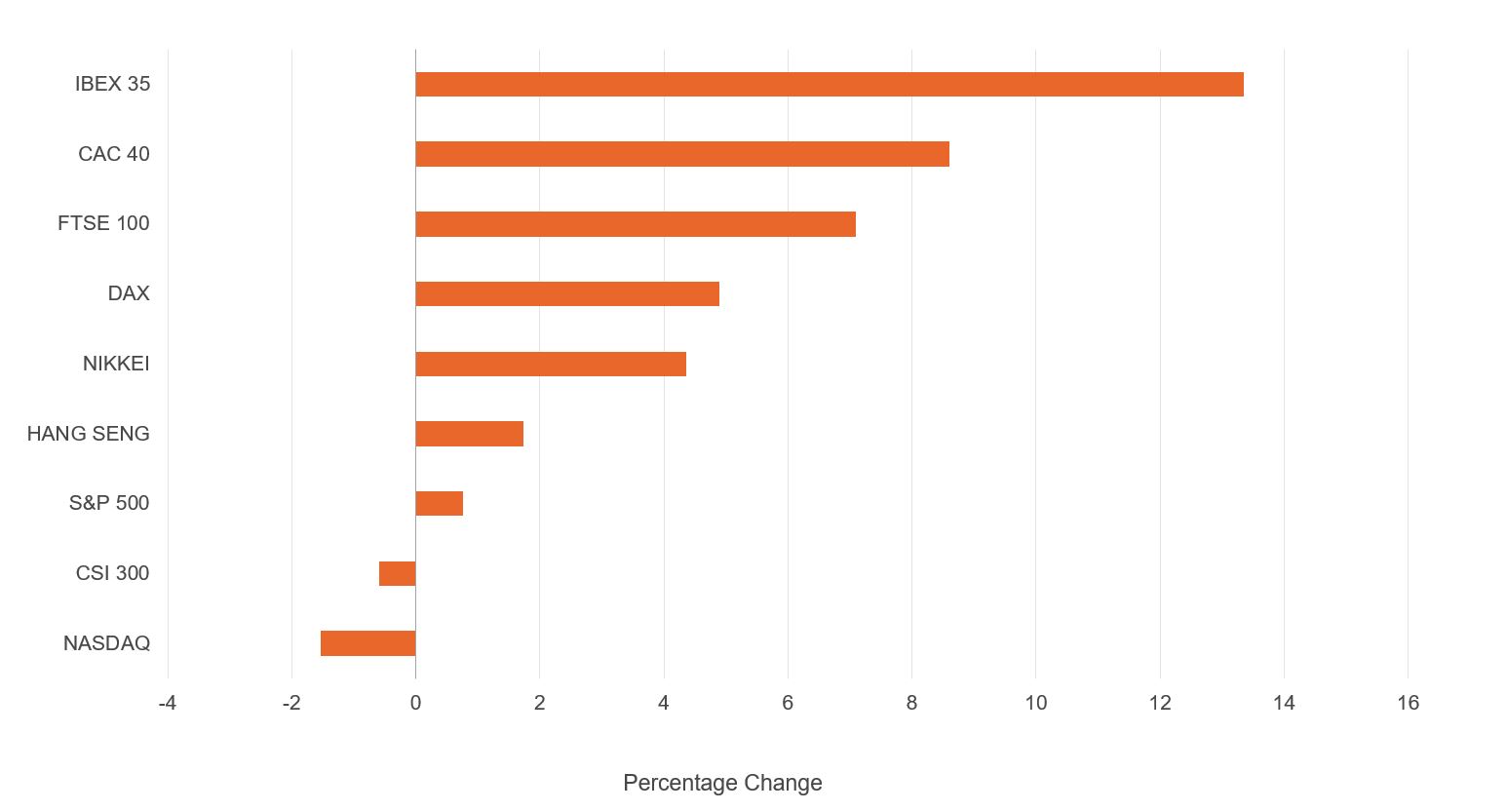 Figure 2 reveals that the NASDAQ index did not respond as well as other indices to the vaccine news. The explanation for this is that it was not good news for some technology companies, such as Zoom Video Communications and Peloton, which have benefitted from lockdown policies as widely used platforms for online meetings and exercise classes.
Table 1 reveals how various sectors of the UK stock market responded to the vaccine news. The news benefitted companies that have suffered most during lockdowns, such as those involved in oil, consumer services, and airlines. Shares in the parent company of British Airways, IAG, were up 35% and shares in Compass Group, a contract food service company, were up 19%. But the vaccine was bad news for firms such as Ocado and Just Eat Takeaway, which had experienced a surge in demand for their services during lockdown.
Table 1: Returns of FTSE sectors